Alternative to quantum memory?
1 January 2016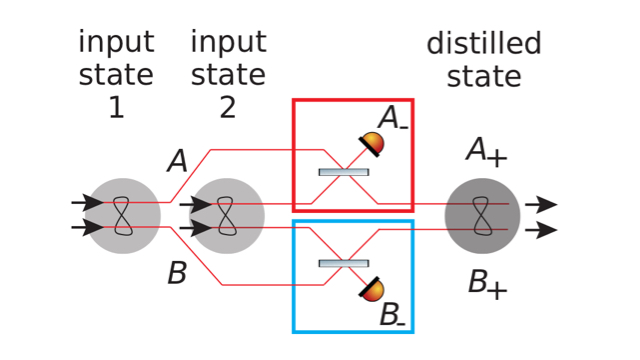 Photo: Ag Schnabel
In the past, multistep entanglement distillation without quantum memory only seemed possible in extremely inefficient form. With our work we show theoretically and experimentally that an efficient form is still possible without quantum memory. Our experiment realizes iterative, three-step entanglement distillation without quantum memory, but with an efficiency equivalent to that with an optimal number of quantum memories. For achieving this we use a new kind of data post-processing.
Background: The major challenge in quantum communication is minimizing the decoherence of transmitted optical states. Finally, decohered states may still be "distilled" to higher quality. Doing this, a few "good" states are probabilistically selected from a large number of states whose average quality is "bad". The figure illustrates the basic principle of (two-copy) entanglement distillation. Two entangled states, which were already distributed between two parties A and B, are overlapped on local beam splitters. Only if detector "A_" at site A and detector "B_" at site B provide the corresponding triggers, a distilled entangled state will be found in the open beam-splitter ports.
---