LIGO and Virgo gravitational-wave observatories employ 'squeezed' light
5 December 2019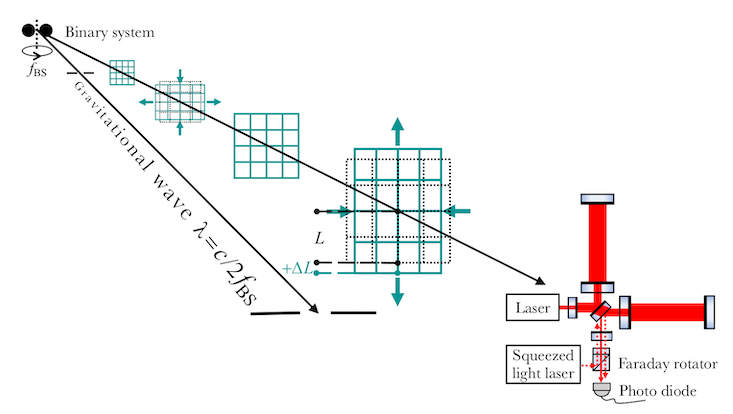 Photo: AG Schnabel
Two compact stars or black holes that orbit each other with frequency f_BS produce gravitational waves (GWs) at twice the frequency. The waves travel at the speed of light and correspond to an expanding and shrinking universe in directions orthogonal to the line of propagation. GW observatories are Michelson-type laser interferometers, which are able to measure the changes of space time very sensitively.
Squeezed light, as produced by a revolutionary new laser type, has a reduced quantum uncertainty and has been substantially researched and developed in the group of Prof. Dr. Roman Schnabel since 2002. Two topical publications in Physical Review Letters report on the successful sensitivity improvement of the two LIGO and the Virgo observatories by the implementation of squeezed-light sources [Tse2019, Acernese2019]. After GEO600 [LSC2011], now all gravitational-wave (GW) observatories of the international network employ squeezed light. While GEO600 could not detect GWs so far despite the improvement from squeezed light, the international network has been observing one to two signals every week since April 2019. The detection rate has increased by up to 50% due to quantum noise squeezing. All candidate events observed so far can be found in the Gravitational-Wave Candidate Event Database. Detailed evaluation of the data has already been started.
Squeezed light is a specific feature of quantum physics. For this reason, its application in astronomy is a milestone in quantum physics. The physics of squeezed light is described by R. Schnabel in a recent manuscript in a new way.
---